International watch production has continued to increase, despite the worldwide recession in the 1990's. Analog quartz watches account for nearly two-thirds of international watch production, and are mostly sold in the developed world. Although the production of watches that need to be wound has fallen since the 1980's the Swiss have capitalized on an interest in highly priced mechanical models to capture much of this market. The Japanese produce nearly a half of the world's watch production.
While the rate of growth in watch production has slowed, output still is expected to hit the 1 billion mark this decade, spurred mainly by the mighty quartz analog
Like the energizer bunny of TV ad fame, the global watch industry just keeps on going and going …
True, a less-than-buoyant world economy has slowed the pace of annual production. Thus, in 1992, between 850 million (a Japanese estimate) and 877 million (a Swiss estimate) watches and watch movements were produced. That was up 4%-6% from 1991, producing the second consecutive year of single-digit growth after years of double digits.
But output has only slowed, not declined, and far surpasses tallies of even a few years ago. Last year's total is more than double that of a decade ago. Even at a single-digit pace, annual output should reach 1 billion in this decade.
Engine: The engine pulling the industry toward the 1 billion landmark is the remarkable analog quartz watch. In the early 1980s – before Switzerland's Swatch watch sparked worldwide interest in inexpensive fashion watches – the analog quartz was a 90-pound weakling in the watch world, overshadowed by digital and mechanical movement watches.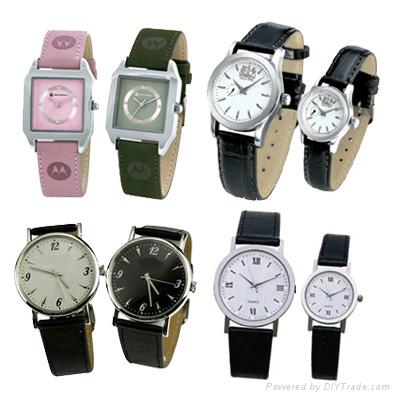 Today, it's the strong man of the trio. More than 500 million analog quartz watches were produced in 1992, accounting for nearly two of every three watches, according to Swiss and Japanese estimates. This success is due partly to the popularity of analog quartz watches in the most prosperous and economically developed nations; more than half are sold in North America, western Europe and Japan.
Meanwhile, global demand for digital watches has reached a plateau. With annual production averaging 200 million to 250 million since the mid-1980s, digitals' share of total annual output has dropped from half in 1982 to about one-fourth in 1992.
Production of mechanical-movement watches fell to just over 100 million in the 1980s, as digital and analog watches with quartz chip movements became popular. It rebounded to a high of 147 million in 1987, due to interest in luxury watches as collectibles, watch owners' fascination with mechanical movements and more inexpensive mechanicals from China. Swiss watchmakers estimate mechanical production totaled 129 million in 1992, up 4% from 1991. However, Citizen Watch Co. of Japan – the world's largest watchmaker – puts the figure at only 100 million, saying the Swiss overestimated Russian production.
A revival of mid- and high-priced mechanical models is a major success story for Swiss watchmakers. The Swiss exported 4.1 million mechanicals in 1992, up 57% from 1991. Mechanicals accounted for less than 15% of all watches made worldwide in 1992 but well over a third of their value, largely due to high-end Swiss models. The increase in Swiss exports of mechanical watches and movements (for use by other watchmakers) "indicates the overwhelming recovery of a watch type once believed obsolete [and] clearly reflects demand from an international clientele for fine mechanical watches," says a 1993 report by the Federation of the Swiss Watch Industry.
This revived interest in high-end mechanicals has led makers of less expensive brands to add their own versions. "It is clear that arrival in the market of the mechanical Swatch played a decisive factor in the 57% increase [in 1992 exports of Swiss watches]," says Andre Margot, president of the Federation of the Swiss Watch Industry. Even Seiko, a Japanese brand known for state-of-the-art quartz technology, debuted an automatic movement at Basel 93 and has created a production line exclusively for mechanicals.
Recession's effect: While production keeps growing, the global recession has affected what and how people buy watches.
Much of the gain in nixon kensington watch output last year came in lower-priced analog watches, says Citizen, which produced 178 million watches or 21 % of the world total in 1992. Sadaki Takeuchi, senior managing director of Citizen Trading Co., called 1992 "a challenging year" because of the economy and cited a "general slowdown in sales of higher priced watches … offset by sales of lower priced ones." (Seiko, in a post-Basel report, also blamed global recession, along with a domestic shift to lower-priced products, for its 62% drop in pretax profits to $11.8 million.)
In line with Citizen's evaluation, the Federation of the Swiss Watch Industry says Swiss-made plastic fashion watches, led by the SMH Group's Swatch brand, grew 51% to 24.9 million in 1992.
Even in lower-priced categories, though, consumers want more quality and value. Average export stuhrling watches prices in 1992 rose for all watchmaking countries – except Switzerland – from US$17.43 in 1991 to US$20.92.
Watch buyers: Citizen data show that nearly half of all watches are bought in North America (23%) and western Europe (25%). The U.S. remains the largest single market, agree Japanese, Swiss and Hong Kong experts. According to U.S. Department of Commerce figures compiled by the American Watch Association, U.S. watch imports rose 6% to 234 million units in 1992. Their value increased 1% to $1.75 billion.
Demand is growing elsewhere, too. Watch sales are expected to continue rising in China and India, which contain more than a third of the world's population and have active watch industries of their own. The outlook is less rosy in eastern Europe and the former Soviet Union, however. There uncertain economic, industrial and political situations have dampened sales.
Watchmakers: The leading watchmaking nations have maintained their rankings unchanged for a decade. Japan is production leader, making roughly 44% of the world total in 1992. Then comes Hong Kong (about 20%) and Switzerland (17%). By value, the Swiss lead (about 55%), then Japan (about 22%) and Hong Kong (8%). Other watch countries (including China, India, Thailand, Germany, France) provide the rest in both cases.
Here's a brief look at some watchmaking nations.
* China made almost 88 million timepieces and movements last year, 40% of them exported to the U.S. Most were cheap digitals. Analysts of the Federation of the Swiss Watch Industry note, however, that much of what China makes for Hong Kong watch firms is "sometimes counted as Chinese exports and sometimes as Hong Kong exports." Analysts for Citizen Watch say China's statistics also include clocks and production subcontracted by Hong Kong firms. Deducting these, Citizen estimates China made 83 million timepieces and movements in 1992.
* France, which has a 600-year watchmaking tradition, produced almost 8 million watches in 1992 and exported half of them at a reported value of about US$310 million. It also produced 14.2 million watch movements and exported 1.3 million of them.
* Germany's timepiece industry was affected by recession throughout Europe, its major market. Production of watches slowed 20% to about 4 million units and production of clocks slowed 14.6% to 52 million.
Exports to the U.S. fell for the third year, due in part to the weak dollar. Germany sent us 1.9 million clocks (down 7.2%) worth US$29.7 million (down 5.4%) and 84,721 watches (down 13.1%) worth $7.6 million (down 11.6%).
German watch trade officials say they will work with U.S. clients to improve sales, partly by stressing craftsmanship and technology over price. But their main hope is that President Clinton's economic policy will stimulate the U.S. and world economies.
* Hong Kong produced 175 million to 180 million watches and movements in 1992, according to Swiss and Citizen estimates.
Hong Kong says it is the world's largest exporter of watches and clocks by volume and the second largest by value. And the industry is Hong Kong's fourth largest export business. However, akribos skeleton watch exports fell 13% last year, a first-time decline. "That wasn't due to poor performance, but the transfers of production to China by many Hong Kong firms," says Wong Kam Shing, chairman of the Federation of the Hong Kong Watch Trade and Industries.
More than a fourth of Hong Kong's 1992 watch and clocks exports went to the U.S., its single largest market. And almost two-thirds were quartz analog watches. "Digital and mechanical watches play a smaller role than previously," says Shing.
* India made more than 10 million watches and movements, according to some sources. Citizen's analysts, though, say this figure includes timepieces and movements using imported parts. They put the tally closer to 8 million.
* Japan's watch production topped 373 million pieces, says the Japan Watch & Clock Association. That was up 2% from 1991 and accounts for about 44% of total world output. Most of the production was exported.
According to Citizen, total production value fell 17% from 1991 because of a decline in the proportion of finished watches and an increase in movement production.
* Russia made 70 million units in 1992, based on Swiss estimates. Citizen says this figure is too high because it includes clocks and because transportation and delivery problems since the Soviet Union's breakup have affected production. Citizen estimates Russia made fewer than 38 million watches and movements last year and says this year's tally will be "far less."
* Switzerland produced 145 million watches and movements (up 9.8%) valued at a record US$5.3 billion (up 7.5%) in 1992, But the Swiss slipped in two important markets, with the export value of its production dropping 9.6% in the U.S. (bumping it to third place behind Hong Kong) and falling 8.9% in Japan.
* Taiwan watch exports fell 8.8% to 5 million in 1992, with quartz watches down 14.5% to about 2 million, says the Taiwan Watch & Clock Industrial Association. The value of quartz exports slid 6% to US$25.1 million, but the value of mechanical watch exports rose 9.3% to $35.5 million. Clock exports grew 21% to 57.8 million units and 16% to US$220.5 million.
Meanwhile, Taiwan plans to build a $100 million center for watch movement research, development and manufacture.